StarShipSofa: The Audio Science Fiction Magazine
, and it's about the first work of modern steampunk: the fantastic television series
The Wild Wild West
. The episode is available for download or streaming
here
. If you listen, I hope you enjoy.
With thanks to
agentxpndble
, here's a lovely visual to accompany my segment. Ah, the sweet smell of steampunk!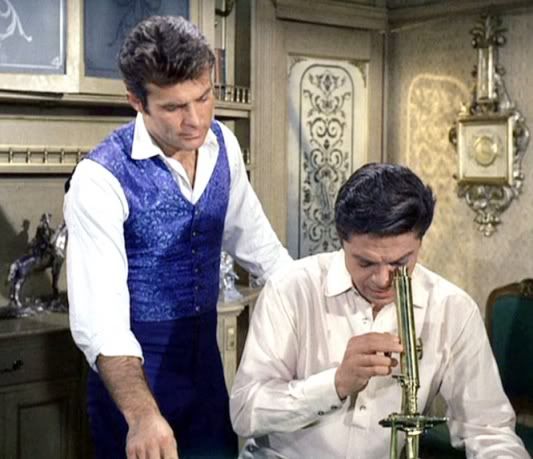 In other news...
* From
Publishers Weekly
:
"In Defense of Dystopia."
* From Jeff Vandermeer:
"The Next Big Punking,"
which builds on
"Make Way for Plaguepunk, Bronzepunk, and Stonepunk"
from
Wired
.
* Speaking of steampunk, here's a list of
steampunk audiobooks.
* Last, AMC's new miniseries of
The Prisoner
is finally over; there goes six hours of my life I will never have again. I was both hopeful and nervous about it. As it turns out, only the anxiety was justified. What a terrible disappointment in execution, in tone, and especially in message. I'll let
io9
take it from here. Although my list would be far longer, I appreciate the symbolism:
"Six Things the New Prisoner Changed for the Worse."
Patrick McGoohan, how I miss you.
"As my Great-Aunt Maude always used to say: 'Artemus, if you can't win the game, the next best thing is to upset the chessboard!'"
- Artemus Gordon, "The Night of the Bogus Bandits,"
The Wild Wild West
Happy Wednesday, everyone! My latest "History of the Genre" segment is up at
Current Music:

"Tonight, Tonight," Smashing Pumpkins