best SF novels of the 1990s.
I was pleased to see that Mary Doria Russell, Lois McMaster Bujold, Neil Gaiman, and Neal Stephenson already had been mentioned.
I also found this amusing. (Of course, it's often true for historians, too!)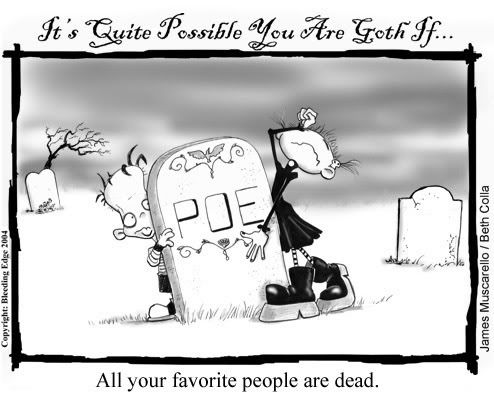 Speaking of Poe, a few questions for the Poe lovers: does anyone have any thoughts on Matthew Pearl's
The Poe Shadow: A Novel
and its perspective on Edgar Allan Poe's death? It's my impression that Arthur Hobson Quinn's
Edgar Allan Poe: A Critical Biography
is still considered the authoritative work on Poe's life. What, if any, "must read" works on Poe have been published since Kenneth Silverman's
Edgar A. Poe: Mournful and Never-ending Remembrance
? (I haven't read John E. Walsh's
Midnight Dreary: The Mysterious Death of Edgar Allan Poe
.) Any recommendations or musings are welcome. Thanks!
"It is by no means an irrational fancy that, in a future existence, we shall look upon what we think our present existence, as a dream."
Edgar Allan Poe, from "Marginalia" installment XV,
Southern Literary Messenger
, June 1849
First of all, The Science Fiction Book Club is looking for the
Current Music:

"Wise Up," Aimee Mann