The Last Man Anthology
from Sword & Saga Press.
The Last Man Anthology
takes inspiration from one of my very favorite novels, Mary Wollstonecraft Shelley's
The Last Man
, and showcases short stories and poems that build on the theme of finality.
Here's the official description: "From experiencing the last snowmelt to taking part of the last day on Earth,
The Last Man Anthology
propels catastrophic literature into the twenty-first century while staying true to Shelley's timeless themes of chaos and isolation. How would it feel to know you were experiencing your last day on Earth? What would the end of the world look like to the Greek gods, the last bookstore owner, or the last philosopher? Contributors include veteran writers
Ray Bradbury
,
C.J. Cherryh
, and
Barry N. Malzberg
, along with such classic sci-fi authors as
H.G. Wells
,
Edgar Allan Poe
, and
Jack London
, and an assortment of contemporary writers from four continents."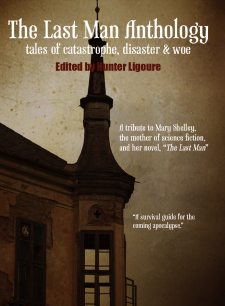 Mary Shelley's novel
The Last Man
is available as follows:
In addition, I recommend three films for the Halloween season that depict Mary Shelley's historic visit with Lord Byron in Villa Diodati by Lake Geneva, the visit that spawned
Frankenstein
(and, for that matter, Dr. John Polidori's
The Vampyre
):
Text of the Day
: Today's text is the short story "The Corpse on the Grating" by
Hugh B. Cave
(1910-2004). Enjoy!
Teaser
:
In the gloomy depths of the old warehouse Dale saw a thing that drew a scream of horror to his dry lips. It was a corpse—the mold of decay on its long-dead features—and yet it was alive!
Read the complete story here.