It's a Giveaway! And EVERYBODY WINS!
Yesterday I posted about some of the music I like most at Halloween time. I saved the best for last, however. I'm a recent convert to the wonderful Paranormal Modern Folk stylings of
Jonah Knight
, who writes and sings songs about ghosts, monsters, superheroes and steampunk with a literary edge. He says,
"I feel inspired equally by Lovecraft, Twin Peaks, and Scooby Doo."
Here he is in - where else? - a graveyard: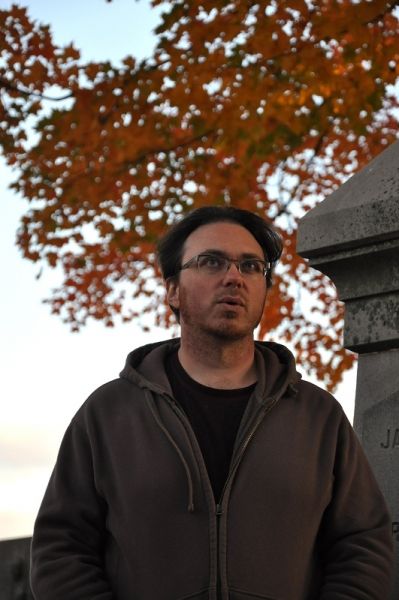 I had the good fortune to attend a concert of his earlier this year, and then I immediately bought his album
The Exploration of Dangerous Places
; songs such as "Sleepy Little Creepy Little Town" and "Deep Under Ground" instantly became favorites. Since then, his
The Age of Steam: Strange Machines
has become my go-to CD. The song "?" follows me around daily like a rather disquieting ghost.
I couldn't be happier that his new album,
Another Creepy Christmas
, offers dark and haunting reinterpretations of classic Christmas tunes. At last, a Christmas album perfect for Halloween! What could be better?
I'll tell you what!
A GIVEAWAY!!! And Everybody Wins!!!
________________________________________
__________________________
Here's What To Do
:
1. Visit Jonah Knight
on Spotify
(it's free!) and listen to his songs.
2. Comment here (at my LiveJournal) with a snippet of a lyric (paraphrasing is fine) that you find to be influenced by H.P. Lovecraft. Include your email address with your reply. All replies will remain screened so only I can see them.
3.
Everyone who replies
with the above will be emailed three free song downloads from Jonah's new album!
One randomly chosen winner
will also receive the physical CD of
Another Creepy Christmas
. I'll get in touch with the winner for his/her snailmail address.
(
Psst! If you go to Jonah Knight's website and enter your email and zip under "Free Ghosts," you'll get yet another free download!
)
This giveaway is open through October 30th.
Please spread the word to anyone who might be interested. Thanks!
________________________________________
__________________________
And now, in honor of Jonah Knight's Lovecraftian awesomeness, here's the man himself...
Text of the Day:
"The Unnamable"
by
H.P. Lovecraft
(1890-1937)
Excerpt:
We were sitting on a dilapidated seventeenth-century tomb in the late afternoon of an autumn day at the old burying ground in Arkham, and speculating about the unnamable. Looking toward the giant willow in the cemetery, whose trunk had nearly engulfed an ancient, illegible slab, I had made a fantastic remark about the spectral and unmentionable nourishment which the colossal roots must be sucking from that hoary, charnel earth; when my friend chided me for such nonsense and told me that since no interments had occurred there for over a century, nothing could possibly exist to nourish the tree in other than an ordinary manner. Besides, he added, my constant talk about "unnamable" and "unmentionable" things was a very puerile device, quite in keeping with my lowly standing as an author. I was too fond of ending my stories with sights or sounds which paralyzed my heroes' faculties and left them without courage, words, or associations to tell what they had experienced. We know things, he said, only through our five senses or our intuitions; wherefore it is quite impossible to refer to any object or spectacle which cannot be clearly depicted by the solid definitions of fact or the correct doctrines of theology - preferably those of the Congregationalist, with whatever modifications tradition and Sir Arthur Conan Doyle may supply.
Read the Complete Story:
Here