bookwoman2009, and best wishes for many happy returns of the day!

* Thanks to everyone who took part in my poll about the greatest stars of contemporary horror cinema. At the time of this posting, the results are as follows:
First Place: Christopher Walken
Second Place: a tie between Bruce Campbell and Brad Dourif
Third Place: Johnny Depp
Fourth Place: a tie between Clancy Brown, Jeffrey Combs, and Lance Henriksen

* From The Guardian, a perfect quiz for Halloween: "How Well Do You Know Gothic Fiction?" (Thanks to
gbsteve.)

* SmartPop Books has a new website, and for a limited time you can read free chapters from several of SmartPop's recent books. I particularly recommend the chapter "The Burden of Being Sammy" by the fabulous
dodger_winslow from The Hunt: Unauthorized Essays on Supernatural (a Halloween-friendly series, to be sure!), which will be available online through next Thursday.

* For cartoon strip fun in the spirit of Halloween, I recommend visiting Rebecca's Realm.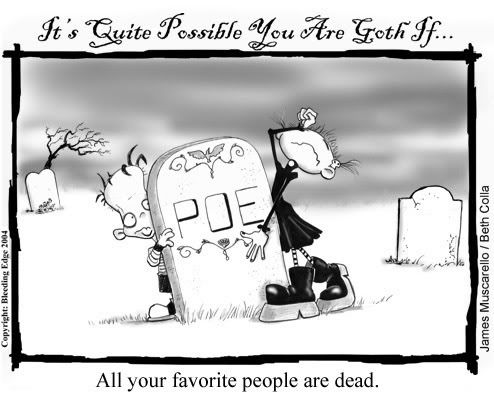 Spooky Texts of the Day: These are three favorites I revisit every year. October wouldn't be the same without them.

"The Grey Thing"
by Stephen Crane (1871-1900)

There is a grey thing that lives in the tree-tops
None knows the horror of its sight
Save those who meet death in the wilderness
But one is enabled to see
To see branches move at its passing
To hear at times the wail of black laughter
And to come often upon mystic places
Places where the thing has just been.


"The Warning"
by Adelaide Crapsey (1878-1914)

Just now,
Out of the strange
Still dusk... as strange, as still...
A white moth flew... Why am I grown
So cold?


"Oil and Blood"
by William Butler Yeats (1865-1939)

In tombs of gold and lapis lazuli
Bodies of holy men and women exude
Miraculous oil, odour of violet.

But under heavy loads of trampled clay
Lie bodies of the vampires full of blood;
Their shrouds are bloody and their lips are wet.