brighteyed_jill
. May you have many happy returns of the day!
* The new issue of
Apex Magazine
is now available, and its theme is the year 2012. Included are two dark and thought-provoking short stories, one by Genevieve Valentine and one by James F. Reilly, and an essay by yours truly that delves into the different ingredients that make up the 2012 popular phenomenon:
"2012: The Good, The Bad, and the Apocalyptic."
I had great fun writing this piece (thanks again to Managing Editor and all-around great guy
jasonsizemore
for the invitation!), and I hope you read and enjoy!
To quote
Dan Piraro
: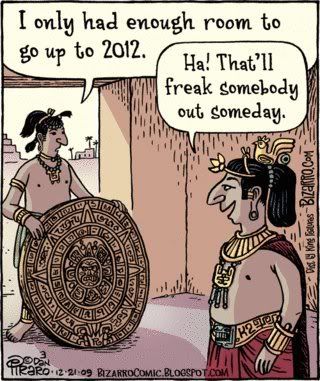 * My latest
StarShipSofa
"History of the Genre" segment, which this month is about Anthony Trollope's all-but-forgotten science fiction dystopia, is now available in the latest episode of the podcast. You can
download it or listen to it here
. If you listen, I hope you enjoy. (A full list of my past podcast segments, with links, is available
here.
)
* Congratulations to my friends the
Potter Pundits
for winning the
2009 Leaky Award
for "Favorite Leaky Moment" for their Harry Potter literary analysis segments on the
PotterCast
podcast. Way to go!
"One of the illusions of life is that the present hour is not the critical, decisive hour. Write it on your heart that every day is the best day in the year. No man has learned anything rightly, until he knows that every day is Doomsday."
- Ralph Waldo Emerson
Happy early birthday wishes to
Current Music:

"Maya," Peter Buffett