3. Before I Fall by Lauren Oliver (2010)
Normally this "soft SF" young adult novel might not have appeared on my radar, but it received such terrific reviews from readers I trust that I gave it a try. I'm so glad I did. This beautifully crafted story depicts a "Groundhog Day"-type scenario in which a teen girl relives the day of her death over and over again until she uncovers the mystery behind her final moments. In the process, she discovers the long-reaching and unintended consequences of her actions -- and inactions -- on those around her. This is a remarkable meditation on the power we have to affect each other's lives and to reinvent our own. What might have become trite or melodramatic in other hands becomes a restrained and powerful story about the human condition that can speak to readers of any age. (Incidentally, with its theme, this book was the perfect companion piece to the series finale of Lost.)

2. The Thirteenth Tale by Diane Setterfield (2006)
This elegant novel nests stories within stories and invokes the best of Gothic authors such as the Brontë sisters and Daphne du Maurier. When a troubled bookstore assistant is invited by England's eccentric and reclusive best-selling author to write the woman's biography, the young heroine learns not only about her subject's past, but also her own. This is not a ghost story, it's not a mystery, and it's not historical fiction, and yet it is all of these things, as well as a study of the tales we tell and why we tell them (or hide them, or embellish them, or deny them). It's also a lovingly atmospheric tribute to the great novels that shape, haunt, and inspire us.

1. The Disappearance by Philip Wylie (1951)
The Disappearance represents speculative fiction at its very best. What if, one day, all the women on Earth disappeared, leaving men alone -- and, on a parallel Earth, all men disappeared, leaving women alone? This novel traces the fate of both worlds, and in so doing questions the foundations of contemporary governments, religions, sexual politics, and even family structures. Wylie asks the big questions about the ways in which we've ordered society and the unexamined assumptions that undergird these arrangements, all the while drawing three-dimensional characters and compelling plotlines. Fifty-nine years after its original publication, it remains an utterly fascinating and thought-provoking read.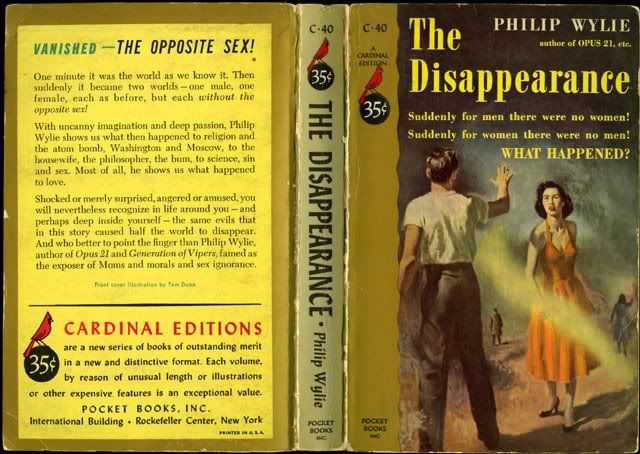 * Thanks to all of you who've looked me up on Goodreads. If you haven't yet, please consider yourself invited!

* Hearty congratulations to Ann K. Schwader (
ankh_hpl) for winning the Rhysling Award for Short Form Poem from the Science Fiction Poetry Association!

* Happy early birthday wishes to
sunshinedew and
knesinka_e. May you enjoy many happy returns of the day.

* From
nakeisha:
If you want to play, post a picture in your LJ of your pet(s) happily snoozing away. New pets, long-time pets, former pets, cats, dogs, birds, snakes, ferrets, rats, fish, all are welcome. If you don't have a pet of your own, find a snoozy one on the Internet and adopt it for the day!

I never pass up an opportunity to post a picture of Virginia!





"That's it! When people believe that what they believe is the immortal truth there's not much you can do. They're born clay with a lovely tendency to become statuary. But some aunt, some mother, a sister, a schoolmate, a church, soon grabs them and bakes them into mean little bricks. And the bricks made a nation. And every brick is faulty and crumbly. And when the pile gets high enough it collapses. Every single nation did; and now, the world."
- Dr. Paula Gaunt in the "women's world" in The Disappearance by Philip Wylie